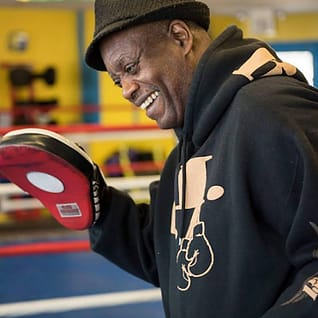 Victor Lashley
Vic Lashley, known as "Coach Lash" is a native of Bradley Beach and the owner and head coach of our Southpaw Gym in its founding location based in Neptune, NJ.
Vic has over 30 years-experience in boxing, martial arts and fitness and loves to teach, imparting his knowledge. The seeds of self-defense called ICAT Defensive Concepts were planted back in 1968 in Asbury Park. As a young boy, Vic was a natural athlete excelling at a variety of sports, including boxing, karate, football, basketball and tennis. He served in the United States Army, where he was able to continue, and expand his training and knowledge in the martial arts. Not only did Victor serve as a military intelligence analyst, but also as a boxer and fighter for the Army.
After receiving his honorable discharge from the United States Army, Victor continued his martial arts training, earning an extensive array of Master Belt Certifications. In addition, he is a USA Amateur Boxing Coach Level 2, a Certified Personal Trainer, State Certified Defensive Tactics Instructor (NJ State Police) and a Retired Corrections Officer.
He is married to our Co-Founder Stephanie Lashley and a dedicated family man. His extensive training and impressive career in boxing and martial arts as well as his faithful service to community and ministry is what qualifies Victor to mentor, train and coach others.
Victor considers himself a continual student and is still learning, training and has now taken on his next challenge – to expand his brand – Southpaw Gym – with dedicated, local franchise owners who want to give back to their community, serve others, and own their own boxing and martial arts training gym. He will oversee the training of owners and head coaches, while providing mentorship on how owners can best develop their team at each local Southpaw Gym.